So there has been a change in the name of what I hope will one day be a steady hobby business.
From LaRueCraft Designs (sort of boring sounding and includes the name of my ex-husband) to Wee Hours Creatory (kree-ay-tor-ee. quite fun, yet elegant and old fashioned.) The new name came to me as I was working on some Christmas presents at 1:45 in the morning. It seems that my funnest and bestest ideas come when my brain is too tired to th
ink reasonably. LOL!

Also, I created a hat pattern that made me smile and now can't wait for summer to turn to fall so I can wear it. I really wanted something that was cabled, yet the texture of the twists would be subtle. What I came up with was a hat that only had purl stitches in the ribbing. The cables blend into the surrounding stitches, yet pop out when worn.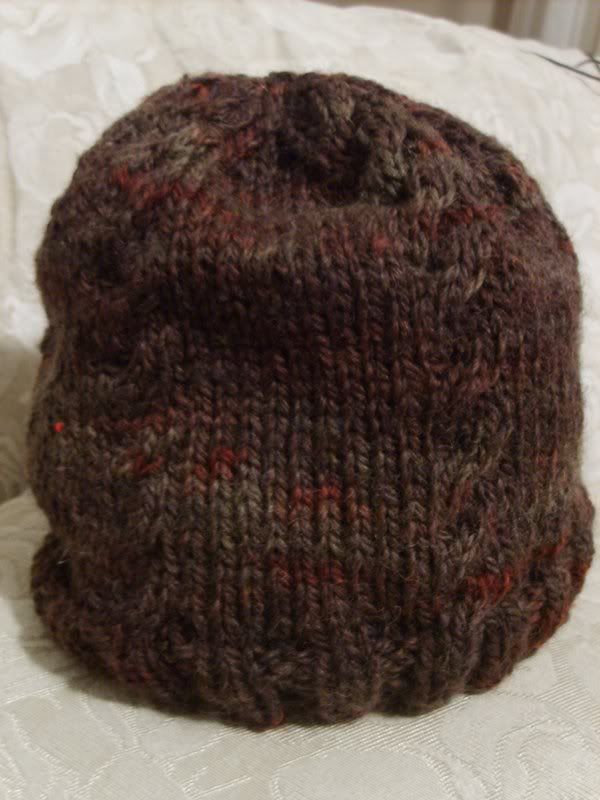 NAME: Cabley Warm
YARN: Some mystery wool my step-mom gave me
NEEDLES: 8 16" circular and 8 double points
On my way to St. Vinnie's for their "Stuff It" sale (anything you can stuff in a bag, you get for three bucks! Woot!!!), I stopped at a rather large yard sale and found the bike I've been praying for sitting off to the side in the shadows. Beneath the cobwebs and dirt, the tag said, $5.00. Yes, it is now home with me, awaiting a few free moments to clean it up and get some air in the tires. I found a cute little basket for the front of the bike, but haven't yet found the dual basket for the back. Oh yeah... it's red. :) I can't wait to ride it to farmer's market and fill up the baskets with flowers and fun finds! Yeah!
Yesterday, Mary T. and I spent the day at the Kittitas County Fairgrounds receiving entries for the 2007 Fiber Arts contest. We were not prepared for how long and BORING the nine hours would be. I finished a sock and knit half a lace hat out of burnt orange merino/silk from the
Dancing Ewe downtown. Mary T. finished her beautiful shrug, which will be presented on here as soon as it is blocked. The saddest part of the entire experience was that our entries were about a fourth of what they were last year. We packed everyone's spinning booty into three cases last year and barely had enough room. This year, we have only two cases, but really need only one. And not only our entries were down, but everyone's entries were down by about the same amount, knitting, sewing, scrapbooking, canning... It breaks my heart that the county fair seems to be going out of fashion. *sigh*
On a happier note, my Matthew will be here in less than a week! Yes!!! I am so excited and am frantically cleaning both inside my house and outside. Mary T. is quite excited to meet this young man as well, always saying that it seems like he's already part of the family. LOL!
ADDENDUM:
I just finished a great lace skull hat yesterday and haven't had it off my head (except to sleep) since.
NAME: LaceCap

DESIGNER: Adrienne Robson, from knitty.com
YARN: Dawn, 50% New Zealand Merino, 50% Silk in Burnt
NEEDLES: Size 2 16" circulars and size 2 double points
This hat was super fun to knit and was quick also. I love the burnt orange color. It reminds me of fall, a season I am very much looking forward too!